Faith Radio began working with an African preacher named Peter Mitimingi in 2005 when Scott Beigle and others were on a mission trip to Kenya, Africa. Peter was attending a seminary in Kenya, Africa receiving Bible training to take back to his country of Tanzania.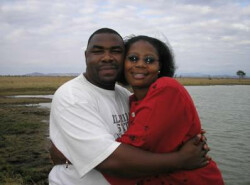 Upon completing his education, Peter Mitimingi established the Voice of Hope Ministries. This is a worthy ministry that takes the Gospel of Jesus Christ into the "neglected villages" as Peter likes to call them. Peter found that nobody wanted to go to these villages because of witchcraft, demon possession, and the lack of personal comforts. These are not small villages, as we might think by the use of the word "village"; they can have thousands of people. It is a dangerous work. Satanic activity is a reality like not known in the United States.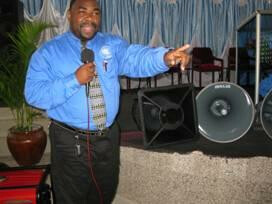 Peter Mitimingi and the Voice of Hope Ministry have a 4-fold strategy for reaching the lost in these neglected villages:
First, a Survey Team goes in and gathers all the information they need like: Are there any Christians at all (usually not)? Who are the witch doctors? What Satanic activity is present?
Next, the Prayer Team group goes in and covers the village with prayer for several days, inconspicuously surrounding the village with prayer.
Then, the Evangelistic Team goes in to hold a crusade and go hut to hut witnessing.
But the work continues even after the crusade with the Discipleship Phase. Voice of Hope seeks to plant a church in each village and even provide assistance in erecting a structure for the church and securing a pastor.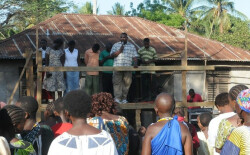 Our Faith Radio listeners have funded several church construction projects in Tanzanian villages. Faith Radio listeners also provided the funds for a full-sized bus to take the workers and equipment to each village. As well, our listeners purchased a very powerful public address system to aid in their outdoor crusades, along with Bibles for distribution. Peter and his wife Patience have visited us on several occasions when we hosted their trips to our area.
Newsletters:
Click Here - to read the latest update from Peter and the Voice of Hope Ministries.
Click here to view older newsletters
2020
January 2020 More Testimonies
2018-2019
Click on the image below to see a video of the work of the Voice of Hope Ministry