(Pronounced "Rŏd-ē-ō Fay")

EARLY HISTORY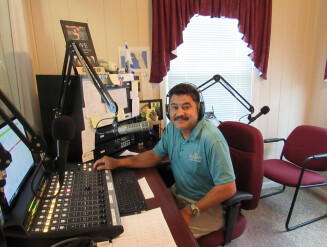 On January 2, 2010, Faith Radio began a Saturday evening only Spanish program named "On Target with the Word," dedicated to the Spanish-speaking communities in our listening areas throughout North Florida and South Georgia. It is a privilege for us to share in Spanish each Saturday evening over all our stations uplifting Christian music that exalts our Savior, offer words of encouragement to those who are listening, and preach the Word of God. The program began as a one-hour slot, but we quickly realized more time was needed for this Spanish ministry effort and so went to two hours in Spanish. Enrique Yanez was a volunteer who came every Saturday evening to do this live program.
RADIO FE BEGINS
In the spring of 2016, a lot of prayer and discussion began about whether or not to sell our flagship station, 1070 AM. It seemed senseless to continue our AM station with the addition of two FM stations to the Tallahassee area that matched the coverage of 1070 AM. But we had no peace about the possibility of selling 1070 AM.
Finally, it became apparent that Faith Radio should enter a new phase of ministry by adding Spanish broadcasting to our network over 1070 AM, switching this station from English to Spanish. We made some changes to one of our offices by enclosing and soundproofing part of it for the Spanish studio, with the rest used for Spanish office space. New equipment went in for the studio. The conference room was utilized for office space lost from the new Spanish studio. We hired Enrique Yanez, a Mexican-born U.S. citizen who had been volunteering each Saturday night for the Spanish program, to become our full-time director of Spanish broadcasting. And so, after several weeks of work, Spanish Christian radio over 1070 AM went on the air June 13, 2016.
EXPANSION
In 2017, the FCC offered to daytime AM radio stations the opportunity to apply for an accompanying low-powered FM frequency. Faith Radio applied under 1070 AM, one of our Spanish stations, for the frequency 106.7 FM at a cost of $5,000. A construction permit was granted for this new frequency, and Spanish broadcasting went on the air at 106.7 FM on August 17, 2018. The red circle shows the coverage in Tallahassee.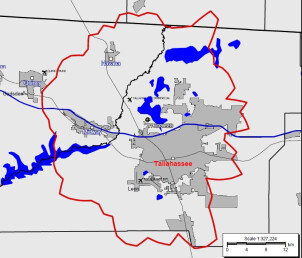 In addition, in February of 2018, we met folks at a radio convention we attended who have a station in Minnesota that carries Spanish Christian programming. After talking further with them in the months to come, they are now broadcasting part of their day with programming from our Spanish studio here. Also, an internet radio station in the Xochimilco area of Mexico City asked if they could use our Spanish programming from 9:00 a.m. to 8:00 p.m. Spanish broadcasting began there on November 5, 2018.
Radio Fe expanded again into the Panama City, Florida, area. We entered into an agreement with 101.7 FM and 1430 AM there to provide Spanish programming over these stations. Radio Fe began broadcasting in the Panama City area on July 16, 2021.
We are so thrilled with how God led us into this mission effort to reach the Spanish-speaking people of our listening area and beyond!


Por Favor Nota:
Las estaciones 1070 son unas estaciones de dia solamente. Usted puede continuar escuchando 24 horas al dia de la siguiente manera:
Sintoniza 106.7 FM en el area de Tallahassee.
Ves a nuestra pagina web, www.FaithRadio.us, despues "Listen Now" en la parte de arriba de la pagina para otra opcion.

Material que promueve a Radio Fe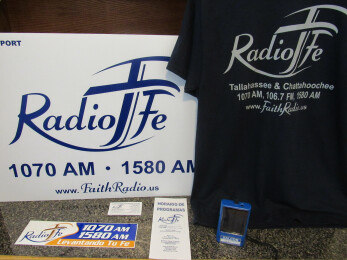 Llama a Enrique Yanez, Director de Radio Fe, al (850)459-9904 para adquir un anuncio para poner en frente de la yarda de tu casa, una calcamonia para la defensa de tu vehiculo, tarjetas de Radio Fe, o radios solares. Asi pasaremos la voz acerca de esta radio cristiana.